mazzi, 3. Oktober 2006 09:19:54 MESZ

Abt. Das Wetter in Fukuoka
my resume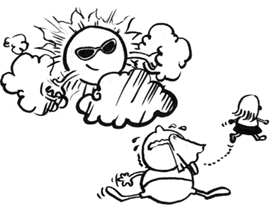 ... link (no comments) ... comment
quimbo, 15. Dezember 2005 20:26:03 MEZ

Abt. es gibt auch Weblogs in der Romandie
Avec de la volonté on arrive à tout!
... link (no comments) ... comment
hasi, 6. Mai 2003 14:35:31 MESZ

Abt. Headless!
Aachen. AFP/BaZ. Im nordrhein-westfälischen Übach-Palenberg bei Aachen ist am Dienstag ein Mann mit einem Menschen-Kopf unter dem Arm auf der Strasse aufgeriffen worden. Nachdem Passanten gegen 9.30 Uhr die Polizei alarmiert hätten, sei der Mann festgenommen worden, sagte ein Sprecher der Aachener Staatsanwaltschaft. Der Kopf, den er mit sich herum getragen habe, stamme definitiv von einer Person, die bis vor kurzem noch am Leben war.
... link (no comments) ... comment
patpatpat, 20. November 2002 12:08:17 MEZ

Kiffen macht langfristig schizophren und depressiv...
... schreibt jedenfalls das British Medical Journal in seiner Ausgabe, die am 23. November erscheint. Hier exklusiv bei infamy schon mal das dazugehörende Editorial: canna (application/pdf, 150 KB) .
... link (one comment) ... comment
Shubniggurath, 9. September 2002 10:09:47 MESZ

The Tears of the Holy Padre

Wie sonst bei Statuen üblich?
... link (no comments) ... comment